All items at Luggage Superstore come with a warranty or a guarantee with the manufacturer, but what does this entail? We have broken this down into key sections to help simplify this for you.
Our product warranties cover a fault that has occurred due to a fault in the manufacturing process including defects in material and workmanship. It does not cover damage from misuse, airline damage, neglect, failure to follow recommended use or wear and tear.
If your suitcase has been damaged by the airline, the process is a little different and can't be treated as a manufacturers warranty. More information on Luggage Damaged by Airlines can be found in our Luggage Superstore Blog
How Long is my Warranty?
You can check how long your warranty lasts in the Specifications section of the product pages on our website.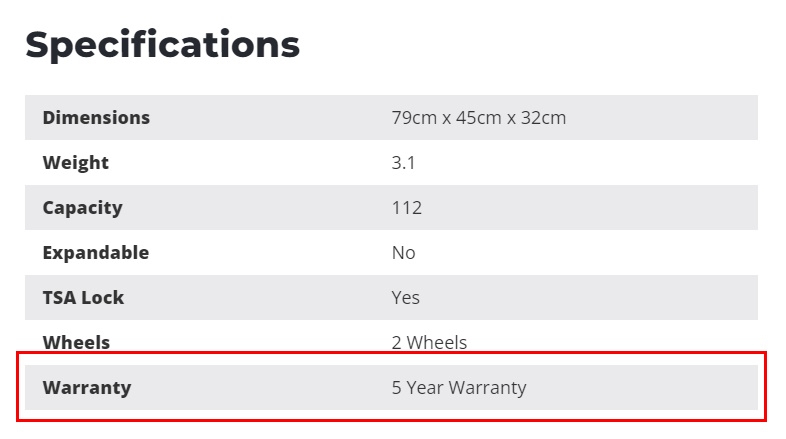 Do all items go through quality control?
All our items go through a thorough quality control check, but on occasions, an item may be approved with a defect. We try our best to ensure this does not happen, but sometimes a fault may not be obvious to the naked eye. Once notified of any manufacturing fault we can quickly work with you to resolve this.
What is covered under the warranty?
Typically the parts covered by the manufacturer guarantee are the zip, telescopic wheel handles, TSA locks or wheels. Not sure if you are covered? Don't worry, contact us via our friendly customer service team and we can help point you in the right direction!
See our Customer Service contact details HERE or alternatively, email us at customerservice@luggagesuperstore.co.uk
What is not covered under the warranty?
Most warranties do not cover damage to the shell of a suitcase. Manufacturers put the suitcases through rigorous testing as part of their quality control, but if an item of luggage is exposed to extreme stress or impact during travel, cracks and rips can occur. This would need to be a claim to the airline.
What are your legal rights?
Per Consumer Law a warranty is a form of guarantee that a manufacturer gives regarding the condition of the product. Without charge you have the right to request a solution if your item has a warranty fault within your warranty guarantee period. This means any cost of postage or repair is not applicable to you. We have a page fully dedicated to warranties, where you can also print off a Returns Label. View our Warranties Page HERE.
What is the process for a warranty?
Once we receive your item back into our warehouse, we will collate the relevant paperwork and arrange with the Manufacturer/Repair Centre for the item to be collected from us. It can then take 4-6 weeks (the latter end in peak times) for an analysis to be made. The centre will follow the 'Hierarchy of Remedies', meaning in the first instance they will repair the item if able. If not possible, they will replace the item. If the item is hard to get hold of a replacement or discontinued, you will be refunded. Unfortunately, we cannot choose one of the three options. The process is repair then replacement then refund, steps cannot be skipped.
We send the item back to the manufacturer for an analysis to be made as we are a retailer, not a producer. The manufacturers have a much better knowledge on the items they create and so will be able to highlight if a fault is a manufacturing error. Most companies will use a third-party repair centre. K2 Global is a very popular repair centre used by Samsonite, American Tourister, Victorinox, Travelpro, etc. If you are over 1 year of your purchase you can skip us and contact the manufacturer/repair centre directly.
For more detailed explanations of your items warranty, please see some of our manufacturers guarantees linked below:
Lastly, don't forget that Luggage Superstore are here to help you every step of the way. We pride ourselves on our outstanding after-sales care. So if your item develops a fault while it is still under warranty, please do get in touch with us and we will be able to advise you on how the issue can be rectified.