Why not treat yourself and help save the world with at item from our Eco-Friendly Luggage range. Luggage Superstore have a lot of pride in the steps we take to help tackle global warming and promote ecological products.
Eco-Friendly Bags
All our items within these Environmentally Friendly Luggage collections go through the same rigorous quality testing that non-recycled items go through and come with manufacturers guarantee. This is to ensure the quality is still of high standard, no matter which material has been used during the manufacturing process. If the quality is just as good, why not opt for the 'greener' option? It would be a great investment.
Luggage made from Recycled Materials
We have a variety of Suitcases made from Recycled Materials, Eco-Friendly Holdalls, Backpacks and Laptop bags available. Discover more about what Environmentally Friendly Luggage looks like and what you can expect when you choose to purchase Green Luggage (And no, we don't just mean green in colour!)
It's all in the Material
First, we'll give a quick overview of what types of materials are used when manufacturing Luggage that is Eco-Friendly. Luggage and bags are split into 2 categories for the type of material that is used. Hard and Soft. As the name suggests, Hard Sided Suitcases are made from a hard material. Typically this is Polypropylene, ABS, Polycarbonate, Metal or Polypropylene that has been remanufactured. You can read all about Hard Sided Suitcases in our The Ultimate Guide to Hard Side Luggage Blog, which we created earlier this month. Again, as the name suggests, Soft Sided Luggage is made from a soft material. All our Laptop Bags, Laptop Backpacks and Shoulder Bags are made from a soft material.
Hard Side Eco-Friendly Suitcases
As a general rule, all Hard Shell Eco-Friendly Luggage will be Suitcases. To our knowledge (Correct as of April 2023) there is not a Wheeled Holdall or Duffle Bag that has been manufactured from a Hard Side Material. The reasons for this are fairly simple – A Carried Duffle Bag would be too heavy, and a Wheeled Holdall no longer becomes a Wheeled Holdall! So, let's look at what a Hard Suitcase made from Recycled Materials looks like.
Samsonite S'Cure Eco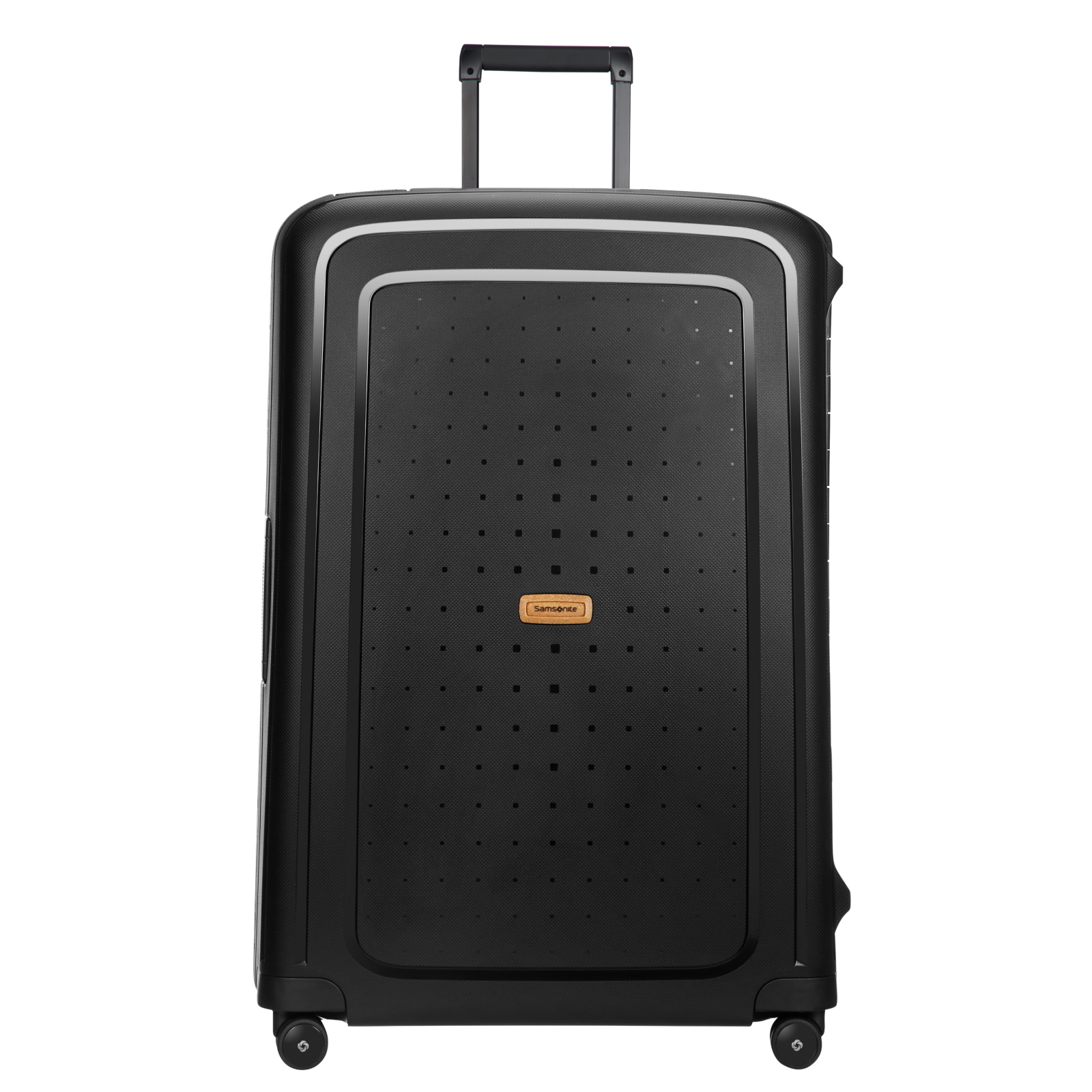 The S'Cure Eco from Samsonite has been based around the original S'Cure collection, which has been around since forever. It benefits from having a 3 point locking system, TSA Locks, Double Spinner Wheels and a whole host of other features. The Eco Model has been made from a minimum of 85% recycled Polypropylene in the shell, giving a new lease of life to a material which may otherwise have been classed as a waste product. Further to the shell being made from recycled materials, the inner lining has been made from a clever material called Recylex™, which has been patented by Samsonite. We will cover more on Recyclex® further down in this blog but essentially, it has been made from RPET Recycled Bottles. Recycled wood design features or cork additions also add to the Recycled construction of the Samsonite S'Cure Eco and really do make quite a statement.
Made in Europe and a Plastics Recycling Awards Europe Award Winner in 2020, the Samsonite S'Cure is setting the trend for what customers need from their luggage, as well as offering alternative options to the more traditionally built suitcases that we are used to seeing.
So, that covers Hard Shell Eco-Friendly Luggage but what about Soft Shell's? There is a lot greater choice of products available that fall into the soft material outer categories. In the below section, we'll look at Soft Side Eco-Friendly Luggage and in further sections, we'll explore Business Bags made from Recycled Materials.
Soft Shell Eco-Friendly Luggage
There is a great choice of Soft Sided Recycled Luggage available, whether you are looking for a Wheeled Holdall, a Duffle Bag or Suitcases. The best part about this is that most of them come from some of our biggest brands such as American Tourister, Delsey, Samsonite and Ted Baker. In particular, Ted Baker is the most recent designer brand to start designing and developing their new Ted Baker Albany Eco that was based upon their best-selling luggage collection, The Albany. Both Samsonite and American Tourister have a vast offering of Environmentally Friendly Luggage and as some of the leading manufacturers of luggage, both brands firmly have their fingers on the pulse for what customers demand and expect from their Planet Friendly Luggage.
Business Bags made from Recycled Materials
On top of Luggage that has been made from Recycled Materials, we have a great choice of Business Bags, Laptop Backpacks and Laptop Bailhandles that have Eco-Friendly properties. These bags are made in a similar way to the luggage but obviously with different shapes and minus the wheels!
Recycled Bottles for Textiles
As we covered in earlier sections, Recylex™ is the brand name for the material that is used in some Samsonite and American Tourister products, however, there are many other companies who are using a similar textile to help reduce the amount of waste of recyclable items. Plastic Bottles are just one of the items that can be recycled into textiles and materials that can be repurposed into other items. You'd think that as a plastic bottle is fairly firm and obviously waterproof that it would be uncomfortable to touch but it's quite the opposite when the plastic has been recycled into textiles. Instead, it takes on a very similar feel to polyester, soft, breathable and durable.
What Happens to Bottles to make them into Textiles
When we throw away a used bottle, have you ever wondered how it ends up being made into a fabric that is soft to touch and is able to mimic the similar properties to a natural fibre? It's all in the way that it is repurposed. After the bottles have been sorted by colour and their caps removed, they are then sterilised to kill any bacteria. The plastic is then dried and shredded into small flakes. These are then melted and extruded into a yard, which can then be spun to make fibres that can be used to make clothing, rugs and suitcase outers!
What are Luggage Superstore doing to help the environment?
Luggage Superstore are taking advantage of the technological advances and have become paperless as just one example of contributing to better choices for our planet. We also often recycle boxes from items that have come into our warehouse, to further reduce the amount of waste that we use. So, if you receive your item in a box that looks a little worse for wear, don't be annoyed with us, just remember that we're trying to reduce waste as much as possible! This is also why we don't place paper invoices in boxes when we send them out to customers. All order details can be found online when you place your order. As an industry, the travel is one that is notorious for being wasteful, with a huge emphasis being placed on the use of fossil fuels for travel but if we can all do our bit to help the environment, we feel that we can help make travel a little more friendly to our world.
Something else Luggage Superstore are doing is expanding our Eco-Friendly range of items available by sourcing items made with more organic and recycled materials.
How can companies do more?
Understandably we are becoming more and more aware of the things we do and how our actions impact our planet. We know that travel, in particular, has a huge factor on the ozone layer, which turn affects businesses such as our own as a Luggage retailer. This goes for day-to-day travel using cars and busses for commuting and also longer journeys on airplanes and trains.
In the UK we are bringing in measures to help slow down global warming as much as we can by introducing more 'green' options and phasing out more harmful things such as fossil fuels. As examples we have electric cars and legislation such as ULEZ.
We can all help to do our part by recycling whatever items our local authorities will allow us to and by buying Green whenever we can