The saying goes that diamonds are a girls best friend (Thanks Marilyn!) but we think a handbag is actually a Ladies Best Friend. Our trusted and indispensable accessories go everywhere with us, and I bet they could tell a hundred stories if they could. Handbags have transformed from pouches, which were utilised by both genders throughout the years, to today's stylish and practical fashion statements. To truly grasp the journey of handbags it is crucial to delve into their origins.
Exploring the Handbag's Fascinating Past
In civilisations, like Egypt, individuals relied on leather or fabric pouches to carry necessities such as coins, jewellery, and cosmetics. These early pouches laid the groundwork for handbags. As time progressed, handbag designs and materials evolved. The Middle Ages witnessed the use of purses. Which were essentially pouches that were embellished with precious gems.
Nonetheless, it was during the 20th centuries that handbags took on their present-day form. The advent of the Industrial Revolution brought forth manufacturing techniques that facilitated mass production of these accessories. This era also saw influential designers, like Louis Vuitton and Coco Chanel emerge onto the scene playing roles in elevating handbags from accompaniments to high fashion must haves. Although we don't offer Vuitton or Chanel Handbags, we do offer an excellent selection of Ladies Bags that are practical, as well as beautiful.
Celebrating National Handbag Day on October 10th 2023
National Handbag Day holds a place in our hearts and calendars. Observed annually on October 10th, this day honours the cherished accessory that is the handbag. It's an opportunity to showcase our handbag's, explore new styles and acknowledge the artistry behind their creation. This year's celebration of National Handbag Day promises to be exceptionally thrilling. Fashion enthusiasts and designers alike will come together to celebrate the diversity and craftsmanship showcased in handbag design.
Whether you're a collector or simply appreciate the functionality and style of handbags, this day holds significance for everyone. Women's handbags come in a variety of styles, sizes and materials. They serve not only as accessories, but also as a reflection of personal style and taste. From Leather Totes exuding timeless elegance to Crossbody Bags or Charming Clutches there is a perfect handbag for every occasion and outfit.
The Evolutionary Nature of a Ladies Handbag
The multitude of choices in ladies' handbags is a testament to the evolving fashion industry. There are so styles of handbags to choose from, such as the timeless tote bag that works well for everyday use, or the sophisticated shoulder bag that's perfect for evenings out. Backpack style handbags have also made a comeback, offering both style and comfort. Regardless of your preference a perfectly selected handbag can enhance any outfit.
Why do we love our Handbags?
What is it about handbags that everyone of all ages adore? Handbags go beyond being carriers of our essentials; they serve as a means of self-expression. They can boost our confidence. Their ability to complete an outfit goes beyond what they look like. Making a statement is unparalleled but having a bag that is functional as well as looking beautiful is even better. Handbags symbolise independence, fashion and personal style.
One reason we love handbags is their versatility. A single handbag can accompany us seamlessly from a day at the office to a brunch with friends, and then to an elegant evening affair. It's like having a companion that adapts to our every need. Handbags also allow us to carry a piece of our identity wherever we go. Whether it's a designer bag that showcases your appreciation, or a luxury or a vintage find that holds memories.
Your choice of handbag reflects your personality and values. Furthermore, handbags are often perceived as a long-term investment. While fashion trends may come and go, a crafted handbag can withstand the test of time, making it a sustainable choice, in the realm of fashion. Moreover, many handbags even increase in value over time transforming into sought after collectors' items.
Ladies Business Bags
For the female professional, having a thoughtfully designed Ladies Business Bag is crucial. Not does it provide a space for carrying your laptop, documents, and essentials but it also adds an air of professionalism to your overall appearance. Discover the diverse range of women's business bags available, that seamlessly blend practicality with style. Business bags have evolved significantly from the briefcase.
Today you can explore options ranging from leather totes with specialised compartments for better organisation, to trendy laptop bags that effortlessly fuse fashion and functionality. These bags exemplify how contemporary women adeptly balance their careers with their sense of style.
Tuscany Leather Handbags
When seeking out handbags that embody timeless elegance there is no need to search any further than Tuscany Leather Handbags. These crafted Italian leather bags are renowned for their quality, durability, and timeless charm. They epitomise sophistication and serve as treasured additions, to any discerning collection.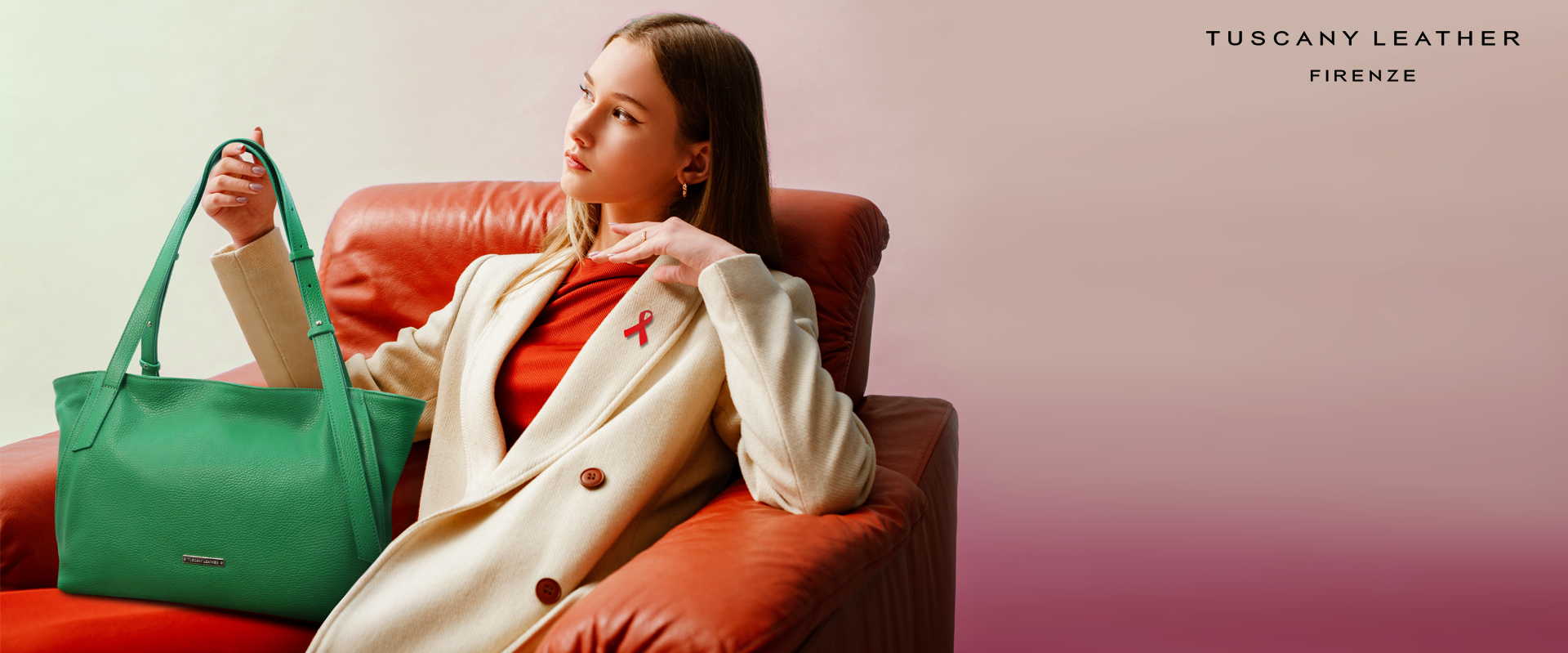 Tuscany Leather Handbags exemplify the skills of artisans showcasing their craftsmanship. Each bag undergoes construction using the finest quality materials that result in a stunning product that not only looks remarkable but also stands the test of time. The utilisation of top quality leather ensures that these handbags develop a patina as they age making them more distinctive and desirable. What truly sets Tuscany Leather Handbags apart is their attention to detail. Every seam has been carefully finished and all hardware has been perfectly placed, demonstrating design. These handbags symbolise elegance, making them highly sought after accessories among fashion enthusiasts.
2023 Handbag Colour Trends
Fashion trends are ever evolving with each year, introducing a colour that takes over the fashion scene. In 2023, pink emerges as the colour of the year – Probably helped by the launch of the Barbie Movie... If you've seen it, you'll 'get it!' This trendy hue finds its way onto handbags infusing an contemporary touch into your collection of accessories. Embrace this colour to stay up to date with trends in your handbag selection.
The colour of the year establishes a fashion and design tone across industries. It not only influences clothing choices but also extends its impact to accessories, like handbags. In the year 2023 handbag designers have fully embraced this colour trend, creating a collection of styles that showcase its vibrant and versatile nature.
Whether you choose a handbag completely immersed in pink or opt for another option, with hints of this shade you'll undoubtedly make a fashion forward statement. This colour beautifully complements different tones allowing for effortless integration into your existing wardrobe. It's an invigorating choice that injects a touch of personality into your outfits.
What is the Ideal Age to Own a Handbag?
One thing many mums and dads want to know, is what is the ideal age for owning a handbag? We are pleased to say, there isn't an age requirement when it comes to owning a handbag. Handbags are accessories and can be enjoyed by individuals of all ages. It's never too early or too late to embrace the allure of a selected handbag. For many parents, cute mini bags in various colours can serve as delightful introductions to the world of handbags. These compact yet stylish options are perfect for carrying essentials like lip balms and any miniature items, while still making a statement.
As individuals grow older, they often develop an appreciation for the practicality and elegance offered by handbags. Classic designs such as totes and crossbody bags provide both style and functionality making them choices, across age groups. Investing in high quality designer handbags can be a choice, for individuals. These timeless pieces have the potential to become heirlooms. The decision of when to start carrying a handbag depends on preferences and needs regardless of age. It's a journey that can begin at any stage of life and continue evolving as one's style and lifestyle change.
Are Floral Handbags Trendy in 2023?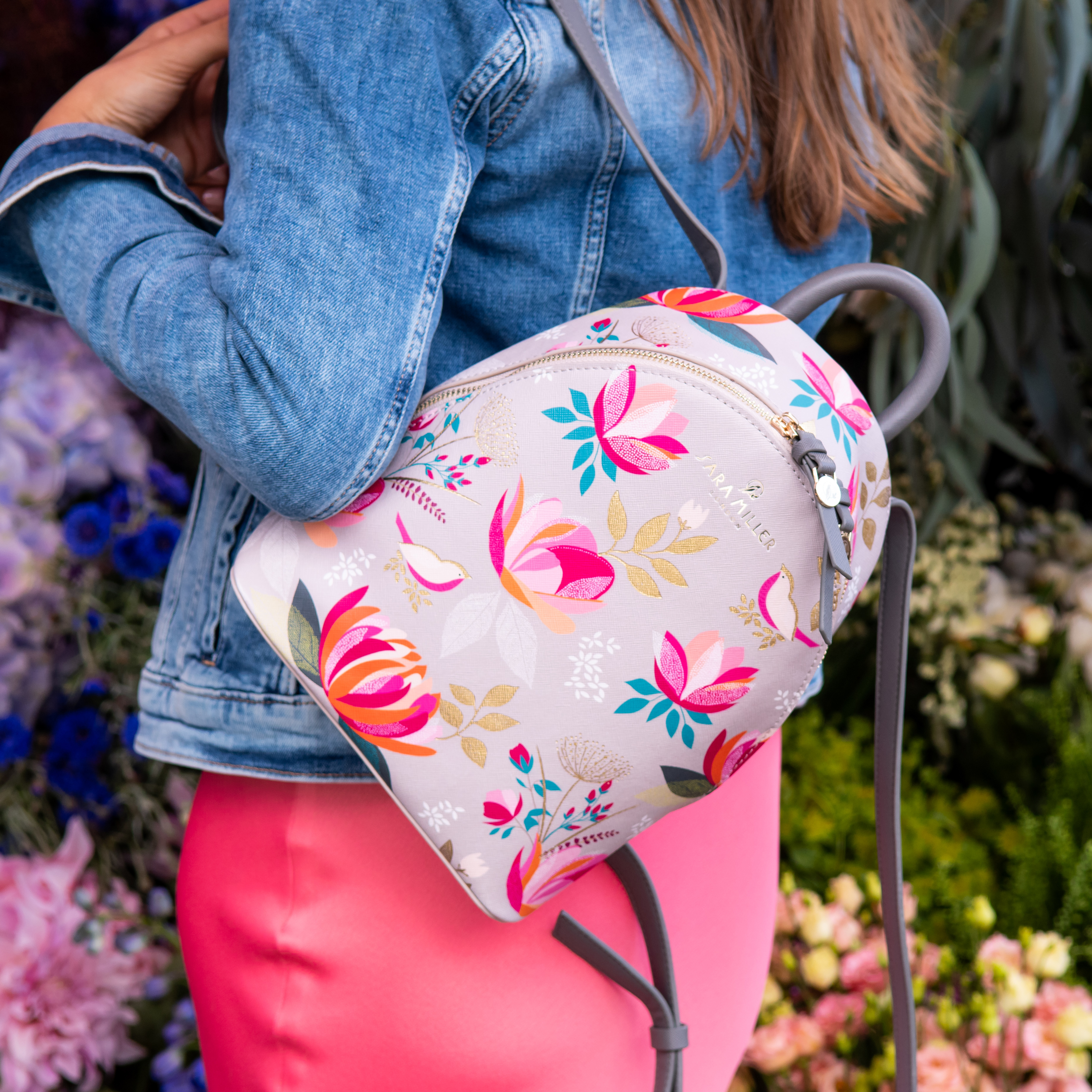 We certainly think so! Fashion trends are as diverse as the flowers in a garden. Floral handbags, known for their feminine designs have made a resurgence in years. In 2023 you can expect to see floral patterns adorning handbags adding a touch of nature inspired beauty to your ensemble. We especially love the designs that Sara Miller offer. Sara Miller has a selection of beautifully designed, Floral toned Handbags that demand to be seen. Floral handbags offer a way to embrace the beauty of nature and infuse your outfits with charm.
Whether its embroidery on a leather bag or a bold floral print on a lightweight tote shopper, these designs bring freshness and vitality to your overall look. Floral handbags are accessories that can be styled for occasions. A small floral clutch can add a pop of colour to a outfit while a larger floral tote is perfect, for casual outings. These bags are particularly popular during the spring and summer seasons when nature is blooming in glory. However, we love the fact that a pop of colour on dull and dreary Autumn days can really cheer us all up.
Why buy a Handbag from Luggage Superstore?
If you're looking for handbags that blend style, quality and affordability Luggage Superstore should be your go to shopping destination. We offer a range of brands, including Samsonite Ladies Bags and Sara Miller Ladies Bags ensuring that you'll find the perfect handbag to match your style. Luggage Superstore is dedicated to delivering top notch products and exceptional customer service. Luggage Superstore isn't just a place for luggage; it's also a treasure trove of handbags for discerning shoppers.
Selection: At Luggage Superstore you'll discover a diverse array of handbags that cater to every taste and preference. Whether you're in search of an professional business bag or a trendy and chic tote there's a handbag perfectly suited to your needs.
Assured Quality: Luggage Superstore takes pride in offering handbags from brands like Samsonite, Tuscany Leather, Bric's and Sara Miller. These brands are synonymous with quality and exquisite craftsmanship, guaranteeing that your chosen handbag will endure the test of time.
Affordability: While prioritizing quality Luggage Superstore also values affordability. We have a large selection at varied prices making it affordable for a range of shoppers.
Customer Satisfaction: Luggage Superstore value our customers. We aim to provide a seamless shopping experience to our customers with outstanding customer support. Plus, don't forget our choice of varied payments methods with secure online transactions to ensure your satisfaction is our top priority.
To sum up, handbags have evolved over time going beyond their purpose. They have become a part of our lives, symbolising style, identity and personal milestones. As we celebrate National Handbag Day on October 10th, 2023, let's take a moment to appreciate the beauty and usefulness of these timeless companions. Whether you prefer leather designs or the latest fashion trends there's a handbag waiting to become your next favourite accessory. With the handbag by your side, not only will you carry your essentials but also showcase your individuality and enhance your sense of style. So, embrace the world of handbags. Let your accessory choices tell your story.